Beru:
The Music Project Of Jessica Nicole Collins
Sounds like: A Keiji Haino and Vashti Bunyan music baby.
When I was fifteen my dad bought the family a Boss 8-track recorder, and I've never looked back. I hope to one day find myself at the age of sixty and still documenting life through sound. My mother is Jewish, and my father is Cuban, so my music is how I process and convey the ideas and beliefs that they taught me. I love my family and friends, and I believe we are just inhabiting time for awhile so we must make the most of it.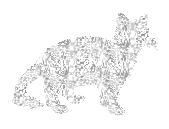 SOME INFLUENCES:
The Song "Nights In White Satin" by The Moody Blues
My husband Benjamin Davis Collins
LINKS
BERU BLOG
BERU on BandCamp
jessicanicolecollins.com/
BERU On Facebook
BERU on MySpace